Farmers' Voices, Farmers' Rights: speaking out at COP V
As drought, famine, global trade, migration to the cities and the spread of genetically modified organisms threaten sweeping changes to the lives of millions of smallholder farmers in developing countries, it is time for the world's policy makers to listen to farmers.
Farmers are the experts, the scientists and the artists who have created and developed a very special category of life forms - 'agricultural biodiversity'.
With 80 per cent of people in many developing countries deriving their income from agriculture, this agricultural biodiversity is a vital source of livelihoods, and of the food security of a third of humanity.
At an international meeting of over 170 governments to discuss biodiversity in Kenya, May 2000, ITDG and its partners brought farmers to the international policy arena, to tell policy makers directly what they require to support their livelihoods and food security.
On these pages you can find out more about the COP V meeting and why it is important, about agricultural biodiversity and what it means, and about ITDG's position and the events it held with farmers in Nairobi.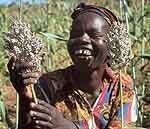 Kenyan farmer Jane Kirambia grows up to ten varieties of sorghum - many of them locally developed and adapted varieties which can help ensure her family's food security. It is this variety which is under threat.